Customer feedback and reviews
We'd be delighted to hear what you think of our work, or what you have to say about our service.
Please email pjhuk@hotmail.com with your comments.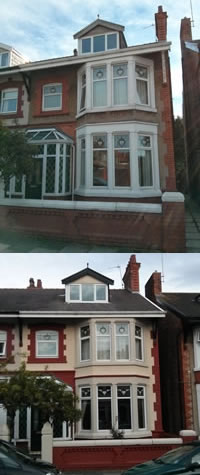 "Thank you for the brilliant job you did painting the exterior of our house. Your work was outstanding and people walking past keep stopping to admire it! We also appreciate the way you scheduled the work, keeping in touch with us at all times and always turning up when you said you would. Bill and I would be happy to recommend you to anyone who is looking for a skilled, honest and reliable painter at a very fair price. Thanks again" Beth and Bill.
"We would both like to thank you for work that you carried out and we are exceedingly happy with the finished look. It now looks like a completely different house! We were both pleased with your professional, efficient and reliable manner from the original time of the quote through to finishing off once the scaffolding had been dismantled. We will be very happy to recommend you to friends in the future." Rebecca and Keith.
"We are a small day nursery in Wallasey and needed someone local to come and decorate are entire nursery over the the course of evenings and weekends. We got in touch with Paul after reading some of his testimonials on his website and we were not disappointed in the service we got. He came promptly to give us a competitive quote, gave us advice on what type of paint we needed etc and when it came to the job he arrived on time every time and left the nursery each time in excellent condition with no mess or fuss. The nursery now looks better then it has ever been and would not hesitate in recommending his services to anyone. A nice guy as well! " Phil at Little Monkeys Nursery.
"Paul completed both wallpapering and painting jobs for us as well as repair work both internally and externally. He came very promptly to give us an estimate which was both fair and value for money. He arrived as he said he would and completed the tasks to an excellent standard, in the timescale he had advised. He is extremely professional, well-organised and polite. Paul is completely trustworthy and worked around our four large dogs which was not an issue for him at all. We have recommended him to lots of people who have been as pleased as us with his excellent work with no mess. He is prepared to give advice when needed and make recommendations when you are not sure about the correct choices. Thank you Paul for your patience and help." Ruth and Phil.
"Paul came at the promised time to do the pre-work survey and to carry out the works - and Paul listened to what I wanted and was very good in providing advice 'from the experts view' which was very helpful. Paul is happy and cheerful at all times and I would happily leave him alone in the house. The price was very competititve. The work that Paul carried out was to me excellent and exactly what I asked for. Paul also carried out a little extra work on our neighbours house without argument and again at a very good price. I would certainly use Paul again." Chris.
"Paul has just finished painting our house and we are very happy with every aspect. Our house has a dormer at the top and steep roof sections and Paul has reached the very top. The coats of weathershield paint on the rendering, the black silk on the roof sections, the high gloss painted doors and the red brick paint look excellent. Paul was very professional, laying down sheeting, preparing surfaces and tidying up. He was also very patient with our typical bank holiday weather! I will definitely be asking Paul back to paint our house again and thoroughly recommend him as a very professional decorator." P Harris.
"Paul, whom we highly recommend has completed all decorating works in just over two weeks. He has also carried out other repair work with expert skill. He is totally reliable and we would certainly bring him to the attention of other people who require work to be done." Emlyn.

"Just wanted to say I am really pleased with the work you have done, quick, clean, efficient and to a high standard. Many thanks." Barbara.
"I have known Paul Hulme for a number of years as a fellow member of my dog training club. When my aunt purchased a flat in Hoylake, Paul was my first choice to decorate the flat throughout and remove and dispose of old carpets. Paul is extremely trustworthy and flexible. I had no worries leaving him a key to the flat so he could get on with the job as and when contractors for other work allowed. Paul completed the work to a very high standard, on time and according to his estimate. I have no hesitation in recommending Paul." Anne.
"Paul Hulme has been our decorator at church for some years now. His many skills range from bringing the North Porch back to life after possibly 50 years of neglect, restoring our church roof above the altar and painting the barge boarding and guttering outside. Paul has always executed his work with great care and to a very high standard. He has decorated our other little church which now looks lovely again. His particular achievement was the painting of the screen in the main church. He did this in high quality paints namely antique white eggshell for the main part of the screen, picked out in specialist gold paint (Ardenbrite). You can see the detail and quality of his work in pictures at the blessing of our Iconastas (screen) in July 2011. Paul is a very good decorator who prices his work reasonably and always delivers on time. I have recommended him to other clients as well as he does such a good job. He always works within his estimates and finishes on time, he is punctual, trustworthy and polite. As a decorator within churches, he is very respectful of the special environment in which he is working and as a bonus, is a very clean worker who leaves no paint drips behind." Father Paul.
"We have been using Paul for painting and decorating jobs inside and outside the house for a number of years. He is always very pleasant to deal with and always achieves excellent results at reasonable prices. We have no hesitation in strongly recommending him." Kathy and Tony.
"I have had nearly every room in our bungalow now decorated by Paul, we are always very happy with his work... clean.. tidy.. excellent work... We would recommend Paul to anyone wanting work done to a good standard..." Helen and Pete.
"We would just like to express our thanks to Paul for the quality job he did decorating our kitchen and dining room. Paul did an excellent job last autumn painting the outside of our house so we did not hesitate to ask Paul to do further work on our house. Many thanks again." Colin and Janet.
"Paul has recently decorated both my bathroom and cloakroom. I am over the moon that I chose Paul to do the work. He is reliable, tidy and efficient, without any compromise to standard of finish (paper hanging included). I found Paul to be friendly and extremely trustworthy. All in all, a fantastic job, a competitive price and complete peace of mind. Can't recommend Paul enough." Kathy Young
"Recently Paul painted the outside of my house in readiness for putting it on the market for sale. He arrived promptly and did a great job, tidy and quick too. And even more so , the house sold quickly afterwards.It can only have helped .I would recommend him to anyone needing a decorator." Mike
"After looking for a while for someone to decorate my Victorian lounge I contacted Paul after reading the feedback and viewing the gallery on his website. I received a number of ridiculous quotes but Paul was very competitive and his work was fantastic. His attention to detail when painting the cornicing and plasterwork I had had reconditioned was second to none and I am thrilled with the result. Paul is very reliable and when I encountered unexpected additional work which interrupted his schedule he was very flexible in accommodating the change of plan. I have no hesitation in recommending Paul and will definitely be contacting him for any future work. Thanks again for a great job." Jane
"Thanks to Paul my new house looks brilliant! I moved into my new house in May and he did a great job of painting the rooms with my chosen colours after the previous owners gutted and replastered the house. He is really helpful, always left the house clean and tidy (he worked for 2 weeks), the price was good and he has great taste in music! I would highly recommend Paul to everyone for all you painting jobs. Thanks Paul." Marie
"Thanks Paul for your patience advising me on choosing the right paint colours. I am so pleased with the results. You arrived punctually and worked fast. Looking forward to having you back to do the rest of my home!" Angela
"Recently had the exterior of house painted by Paul. His advice, price and quality of work were first-rate. He was punctual, tidy and very professional. We are delighted with the result and have no hesitation in recommending him. He was excellent from start to finish." Pauline
Copyright © Paul J Hulme. All rights reserved.
Copyright, terms and conditions